Radiation transfer for
space applications
Rayference is a R&D company providing technical and scientific expertise in 1D and 3D radiative transfer modelling, both in the atmosphere and at the surface. This expertise is applied in areas such as inverse modelling for the retrieval of aerosol and surface properties from space observations, vicarious calibration (metrology), solar energy, fundamental and thematic climate data record generation or sensitivity analyses for the preparation of new space missions and associated services.
Portfolio
The CISAR algorithm
Rayference is specialized in the development of advanced algorithms based on the inversion of radiative transfer models. Rayference has developed the Combined Inversion of Surface and AeRosol (CISAR) algorithm which provides among others the surface reflectance, the single scattering albedo, phase function, fine/coarse mode ratio and the total column aerosol optical thickness. This algorithm is used in the context of the ESA Aerosol_cci project to retrieve hourly aerosol properties over land and sea surfaces from MSG/SEVIRI observations. The figure shows an example of hourly Aerosol Optical Thickness retrieval during a dust storm occuring on 27 - 28 May 2008 over the Mediterranean basin.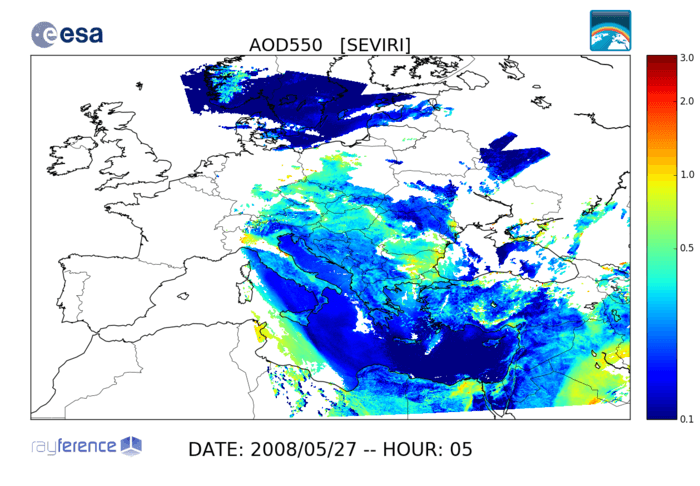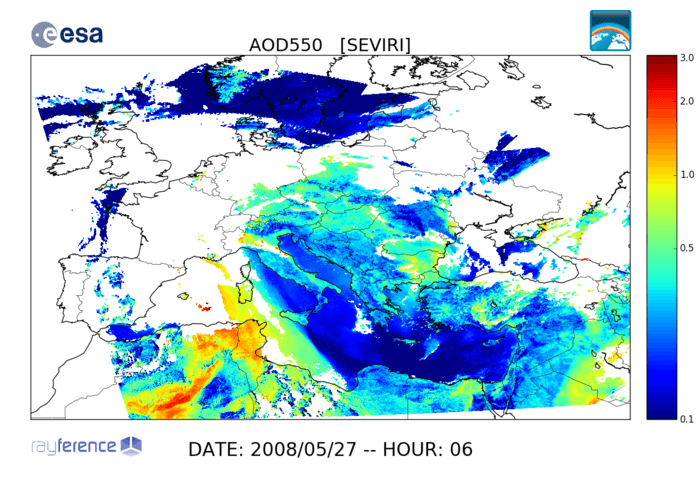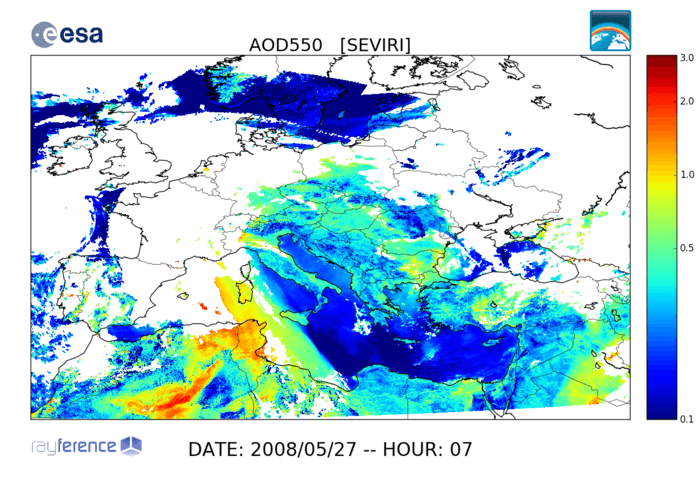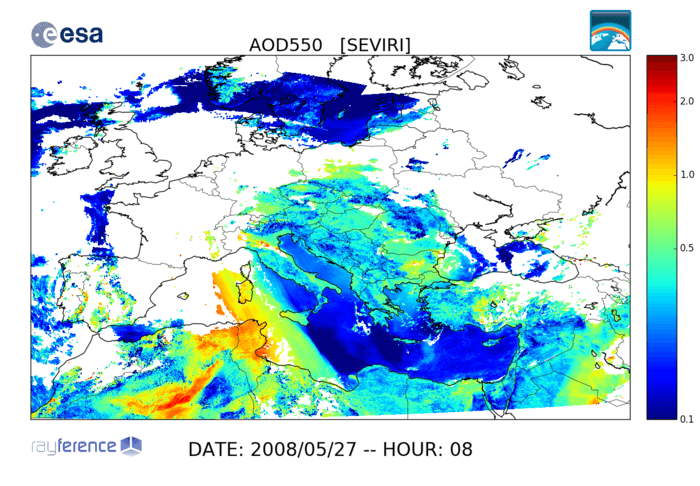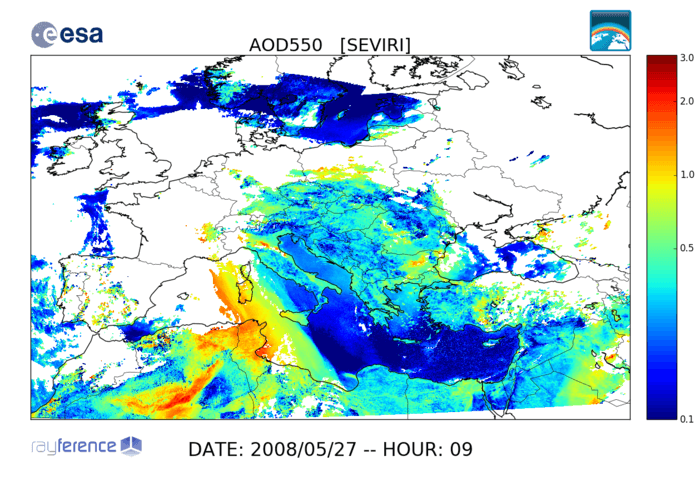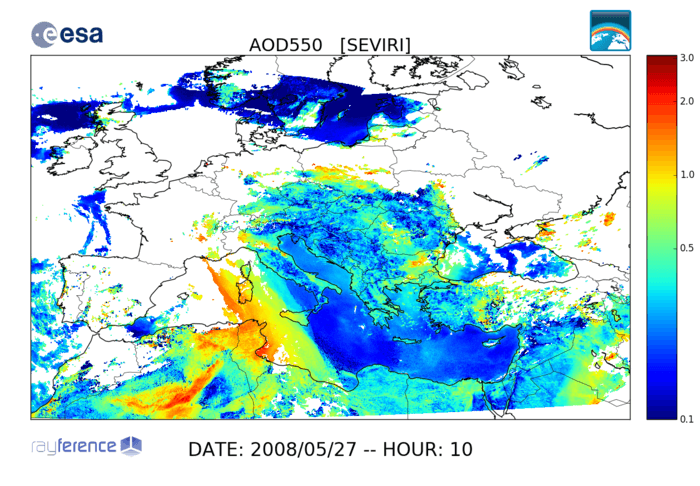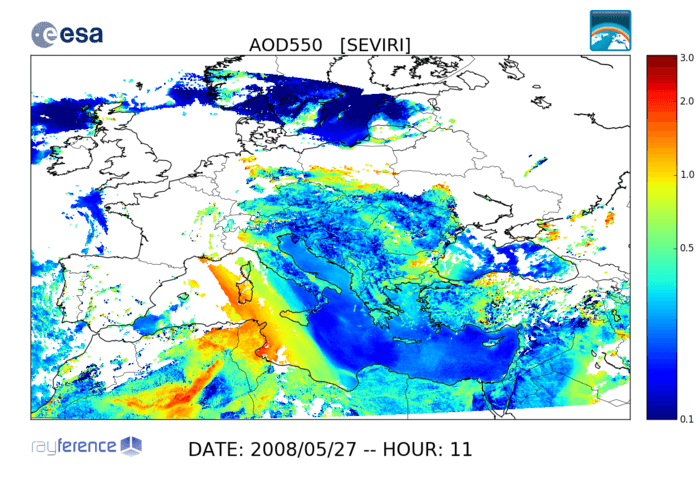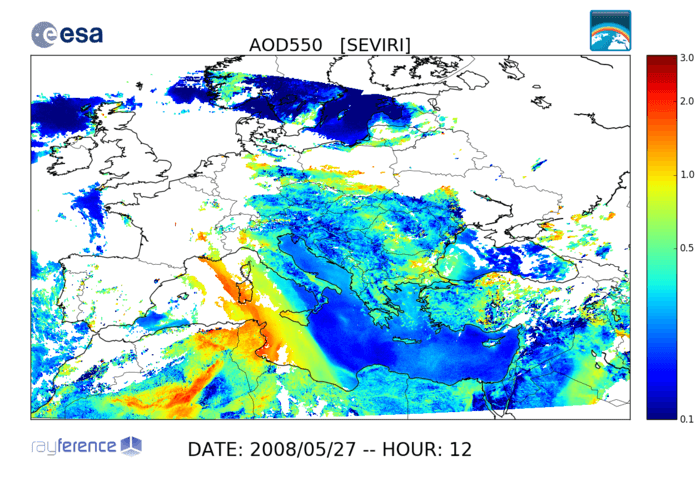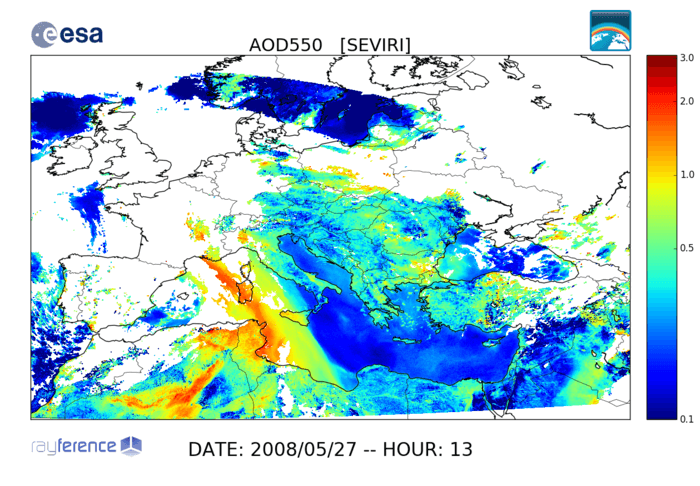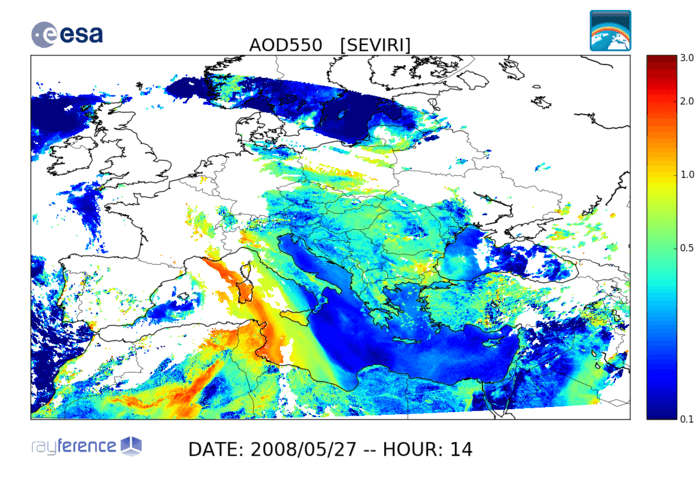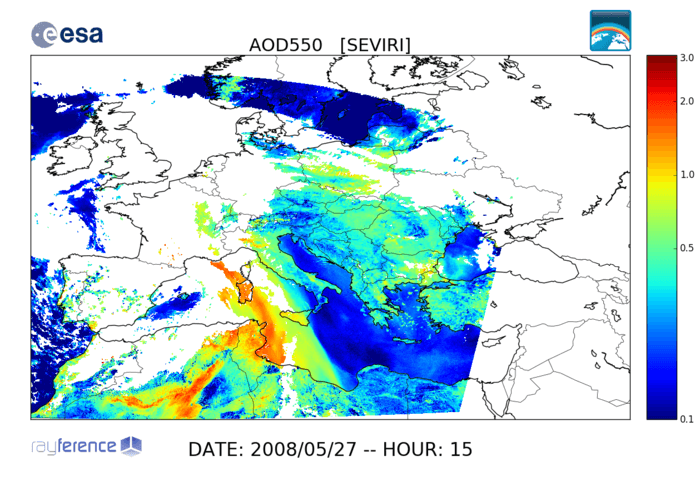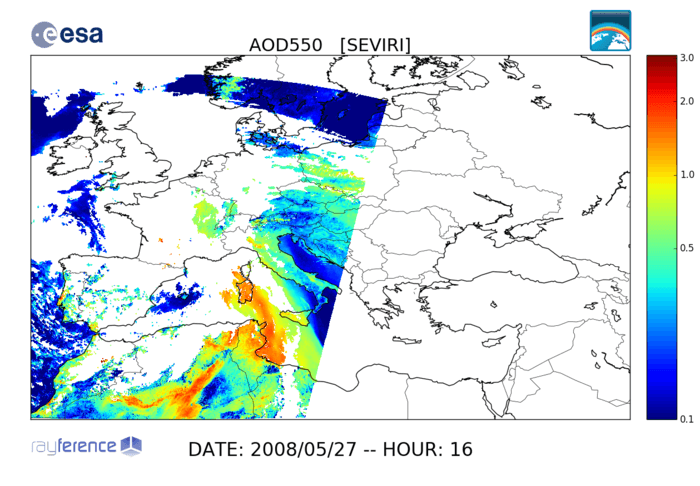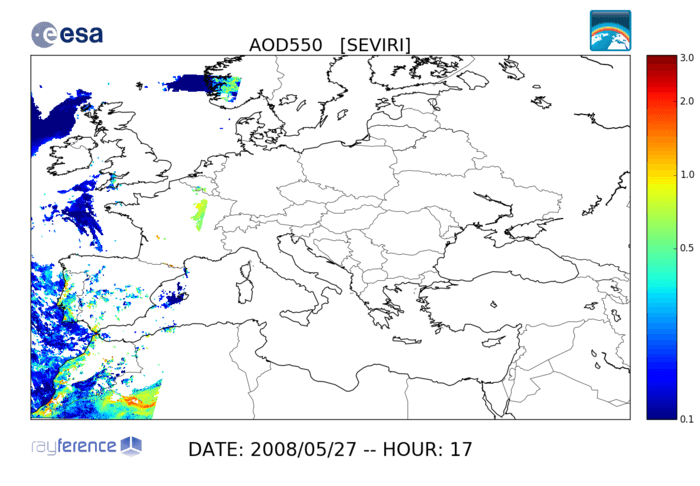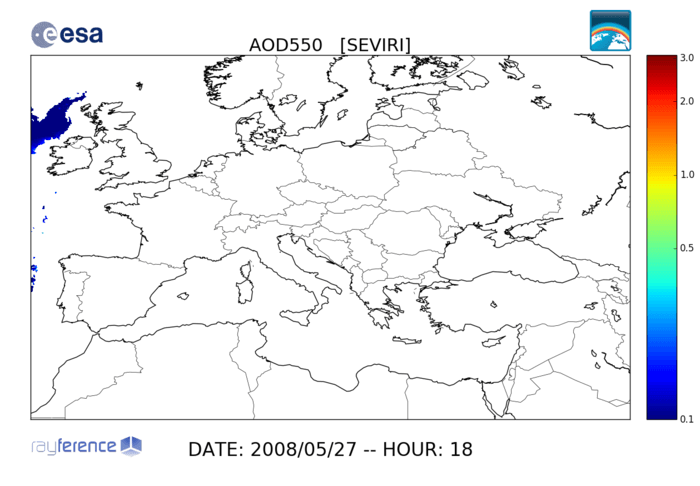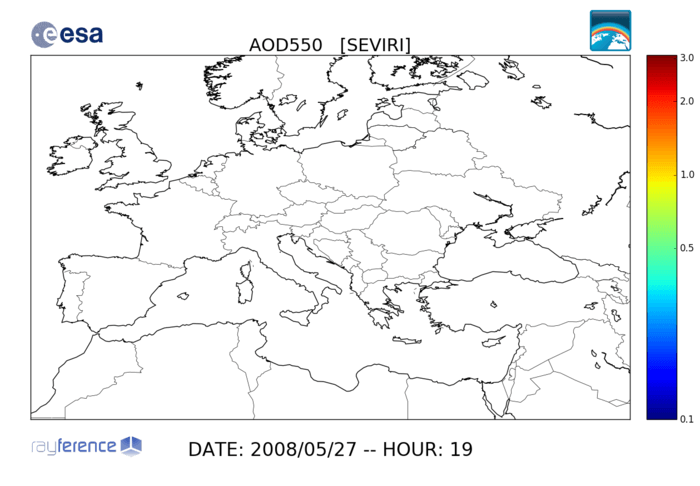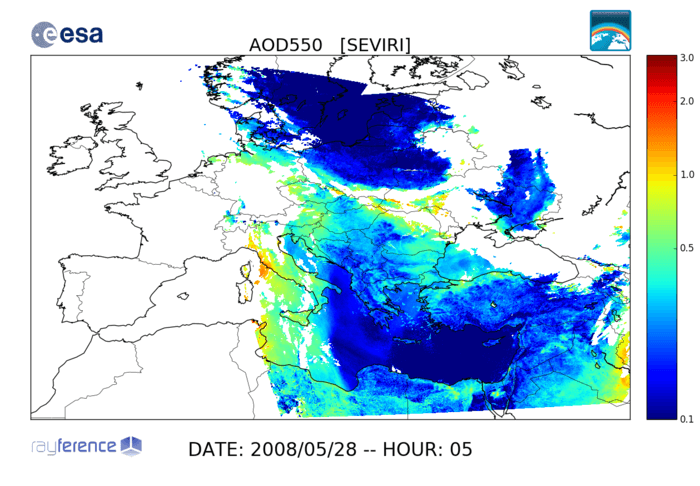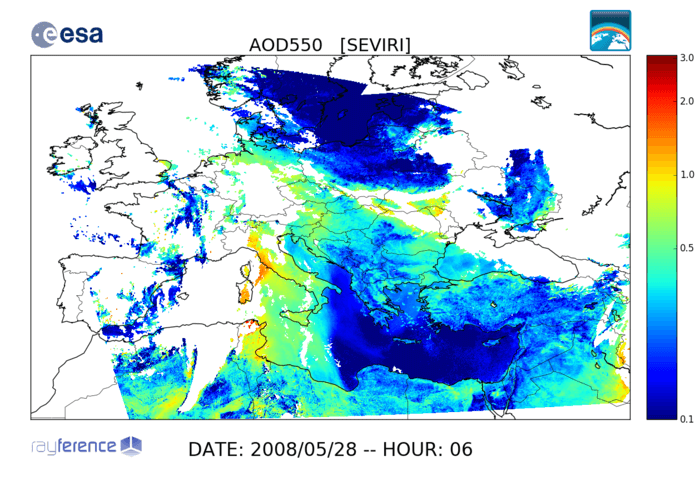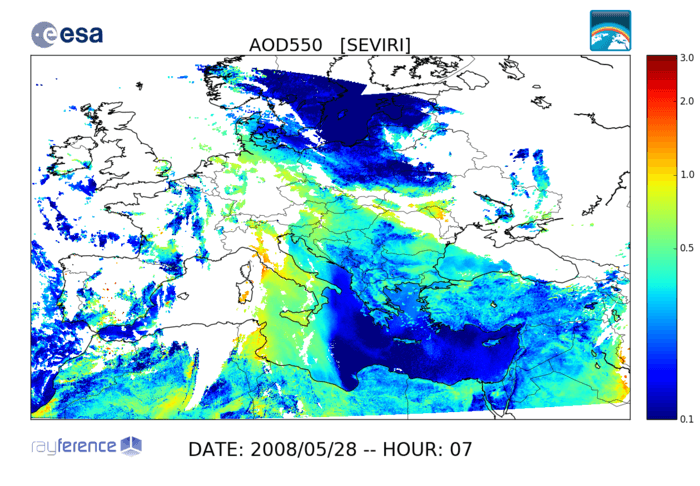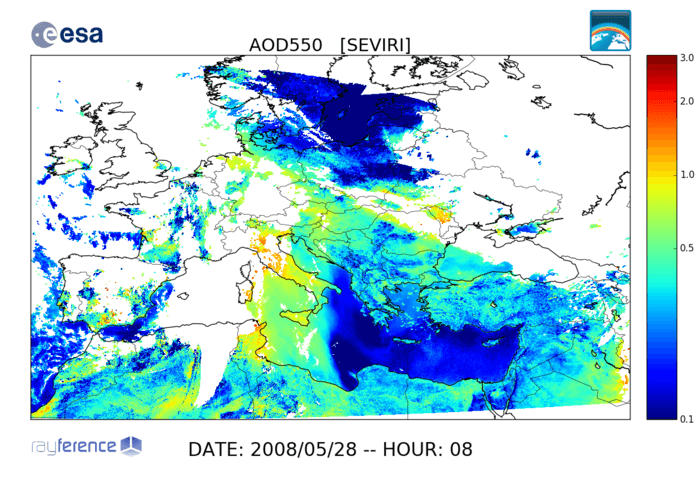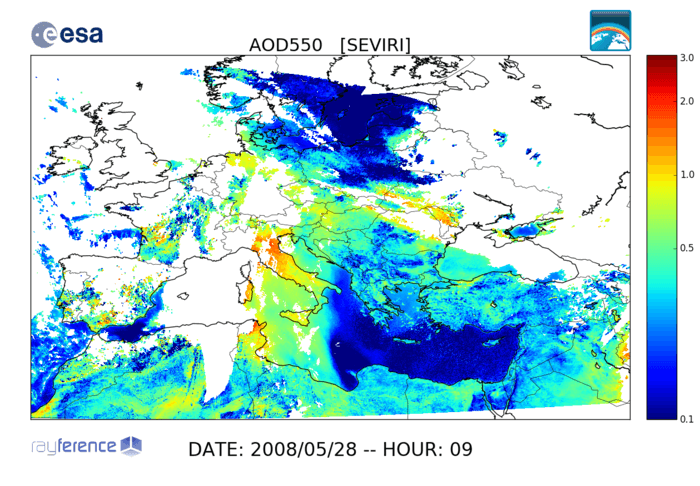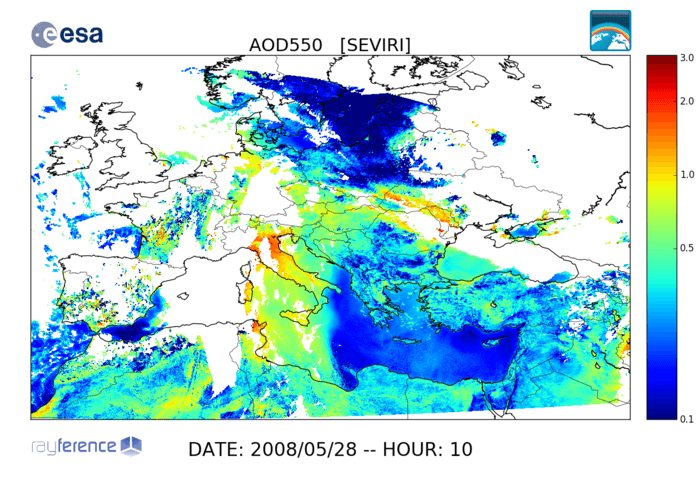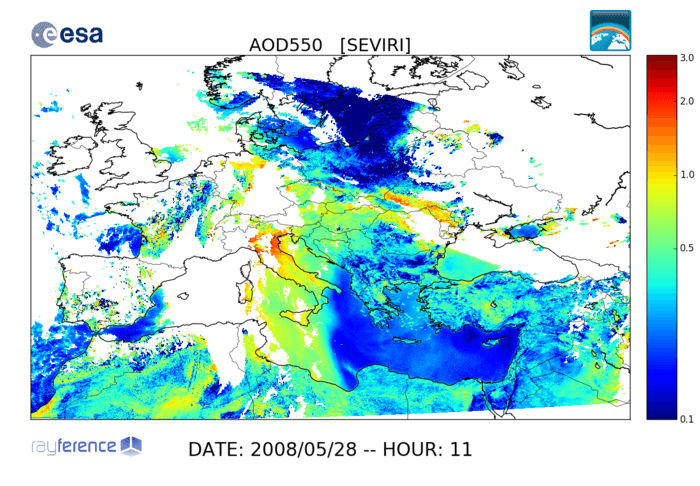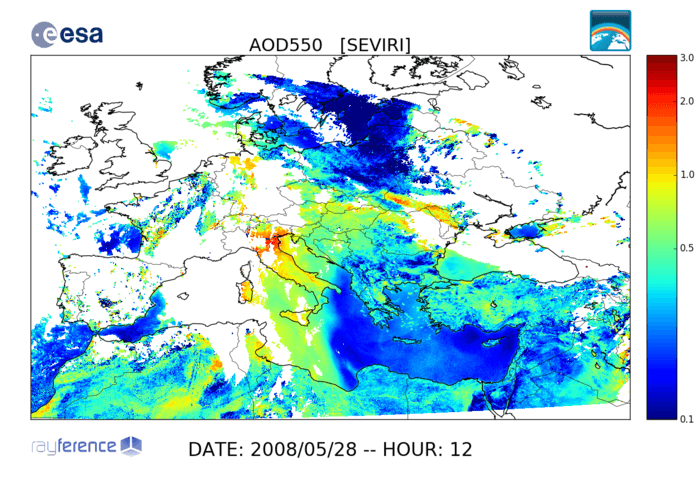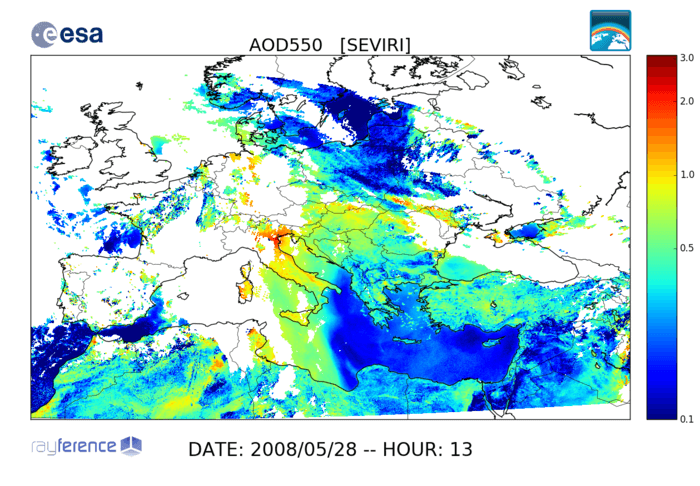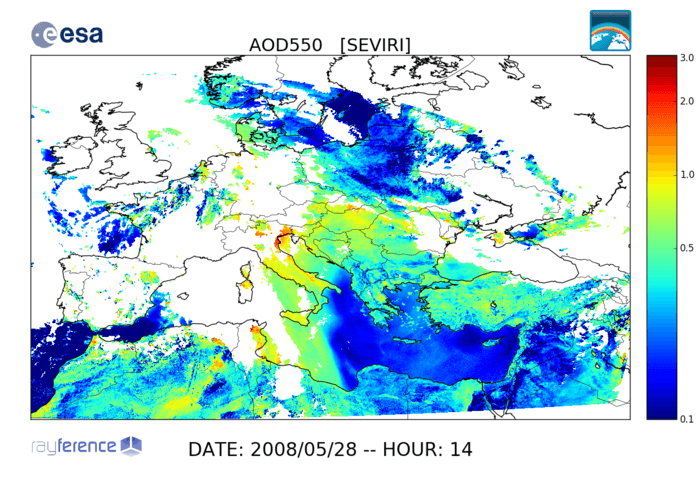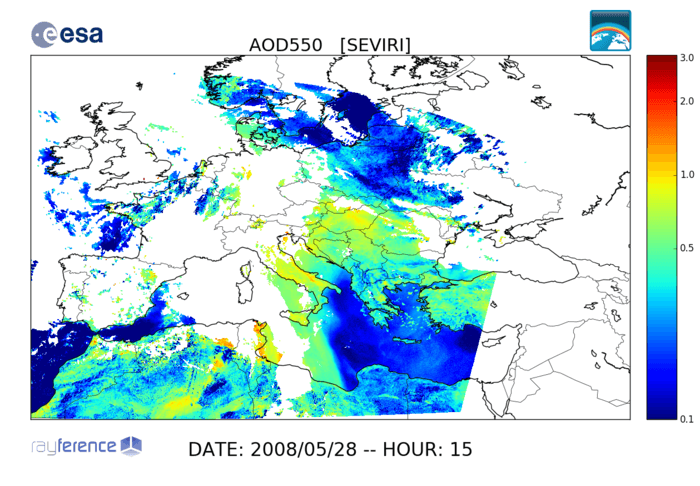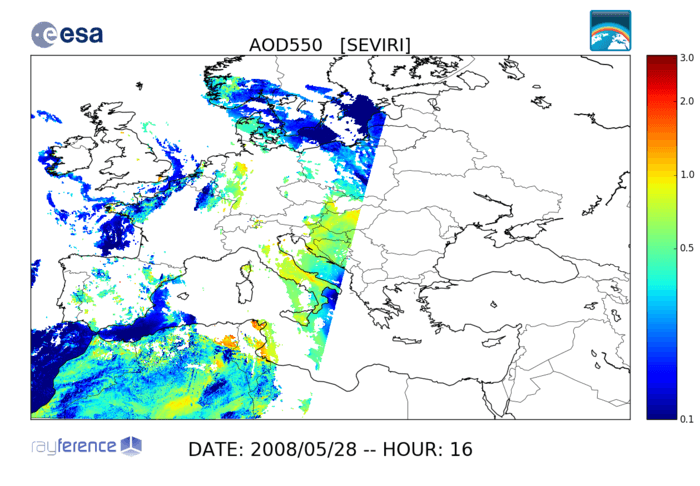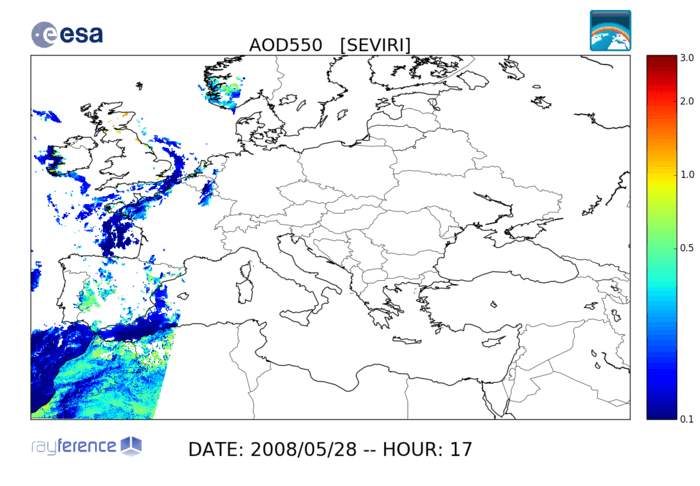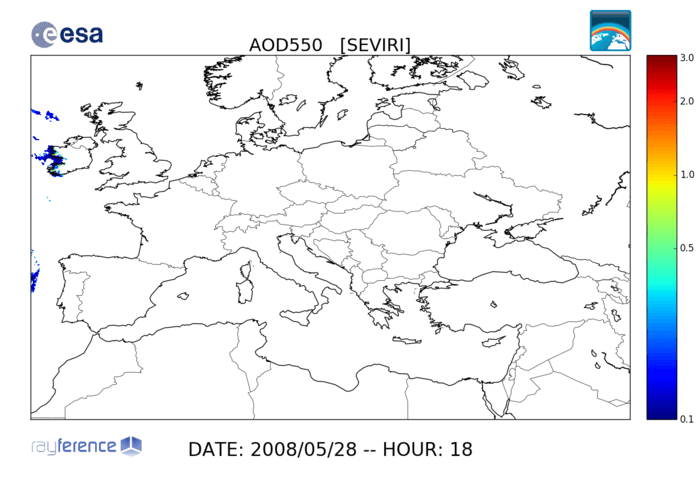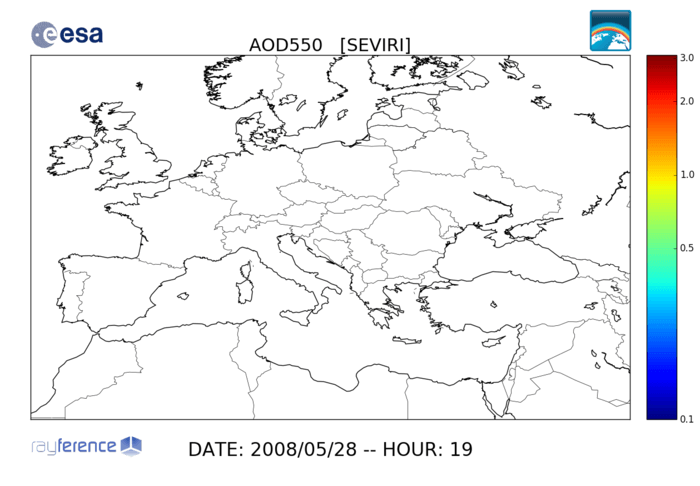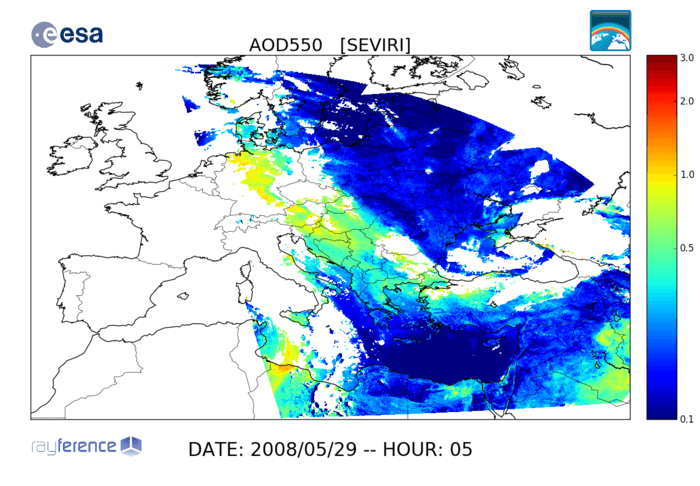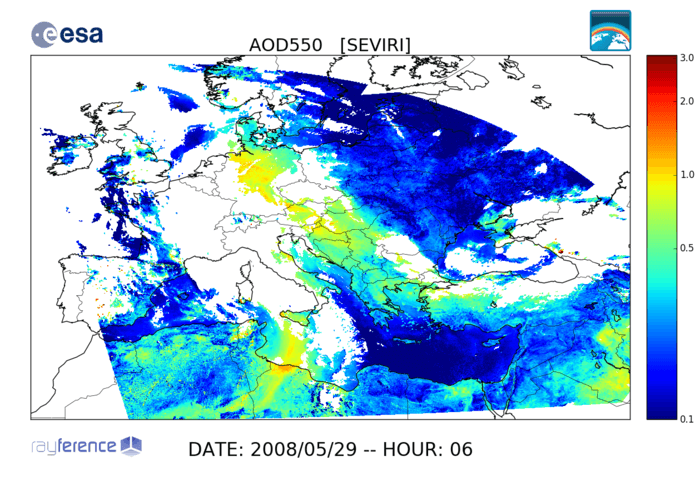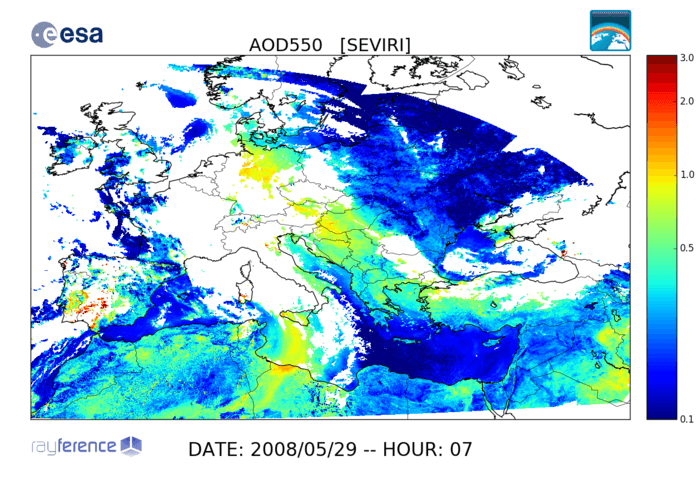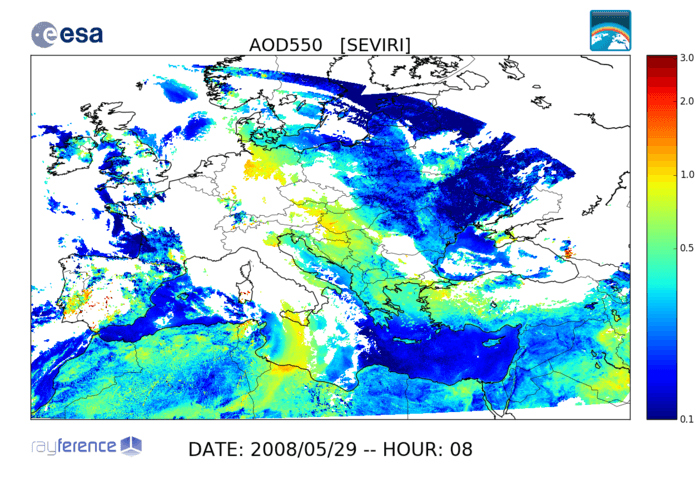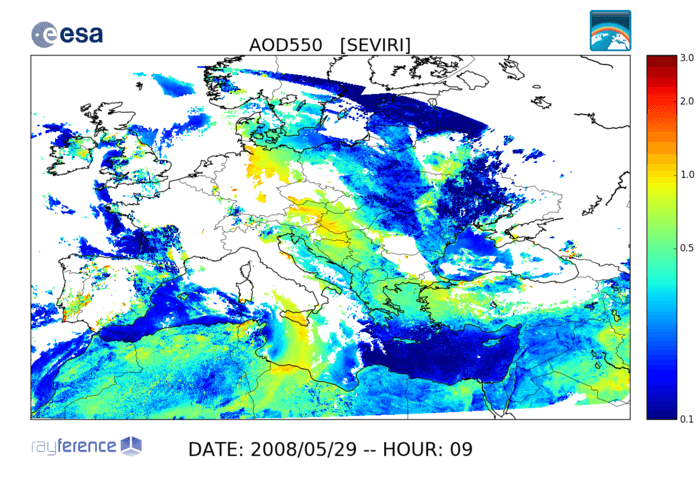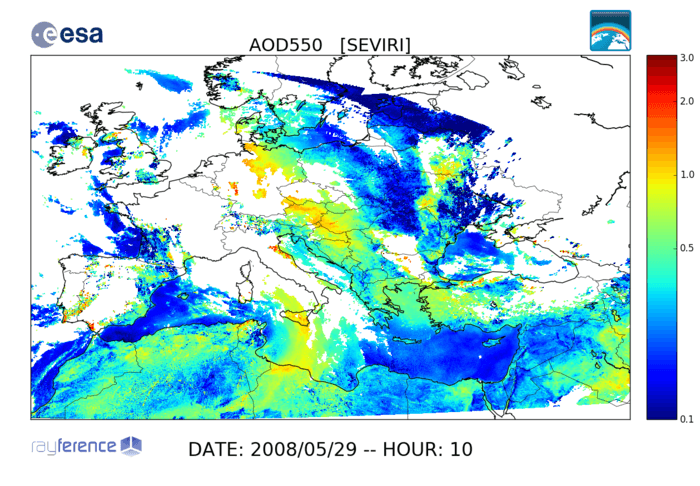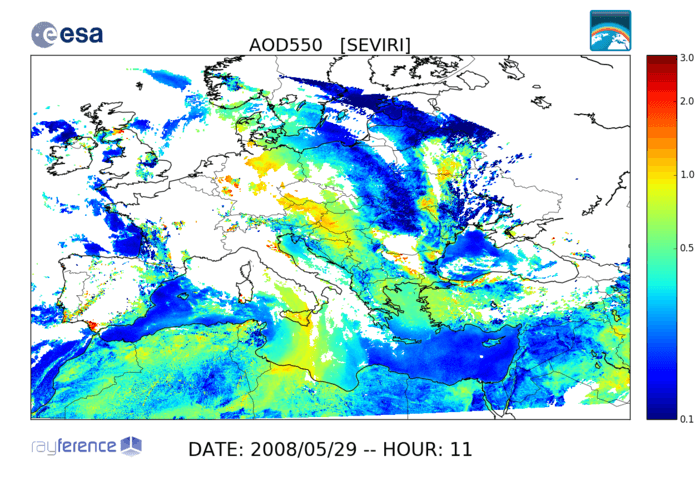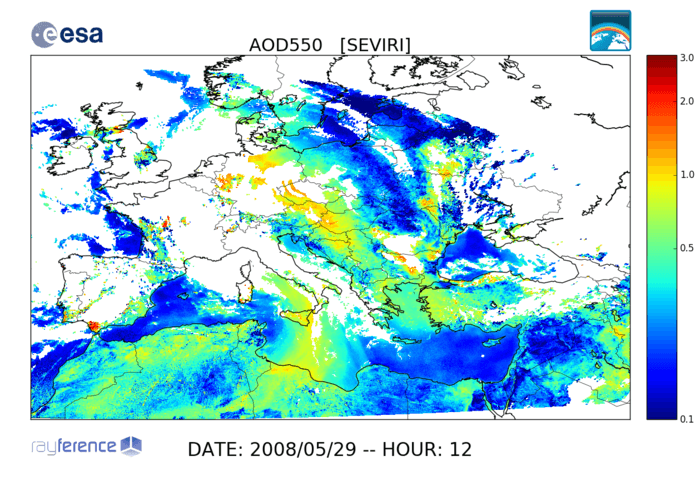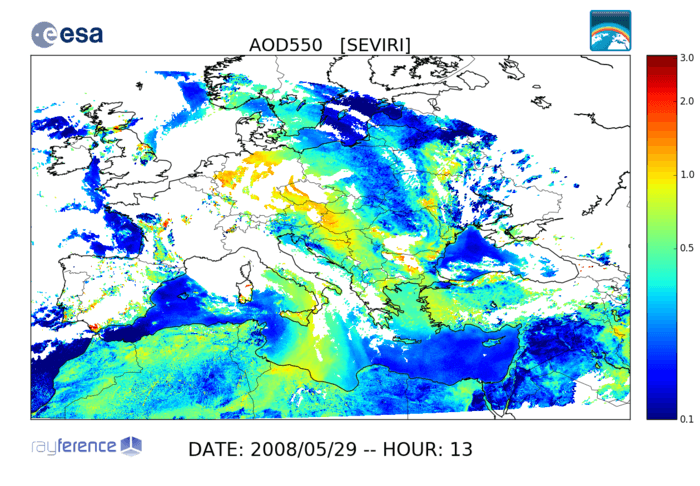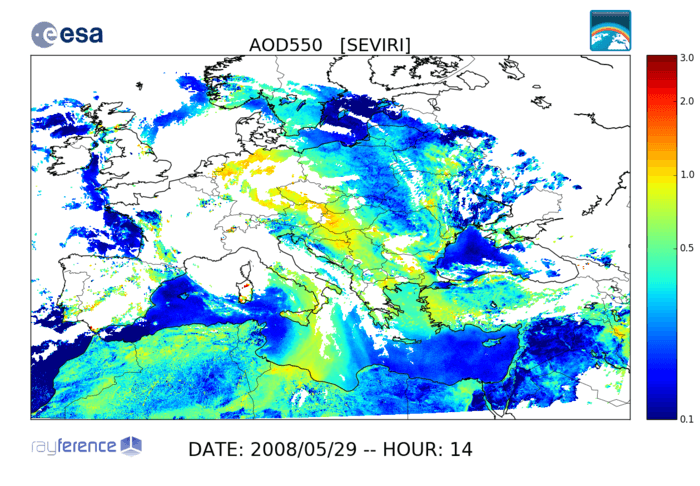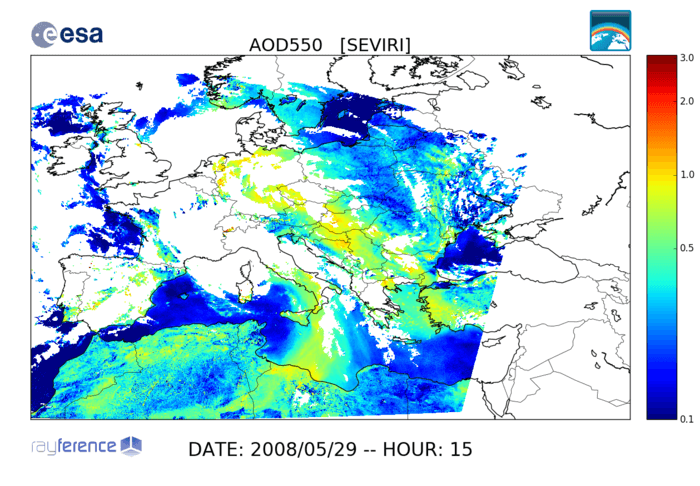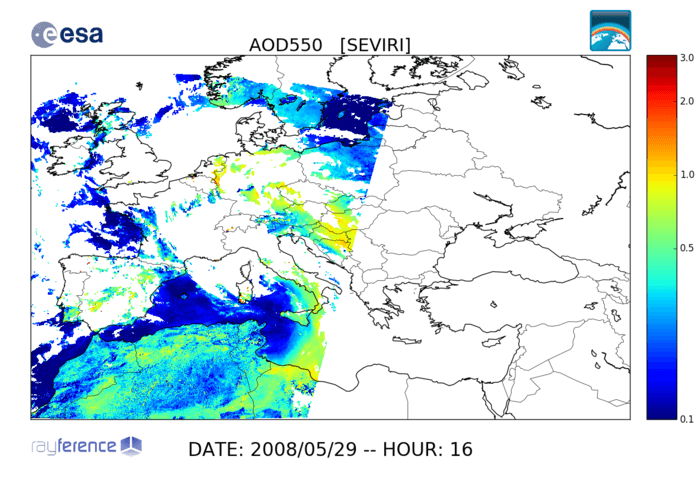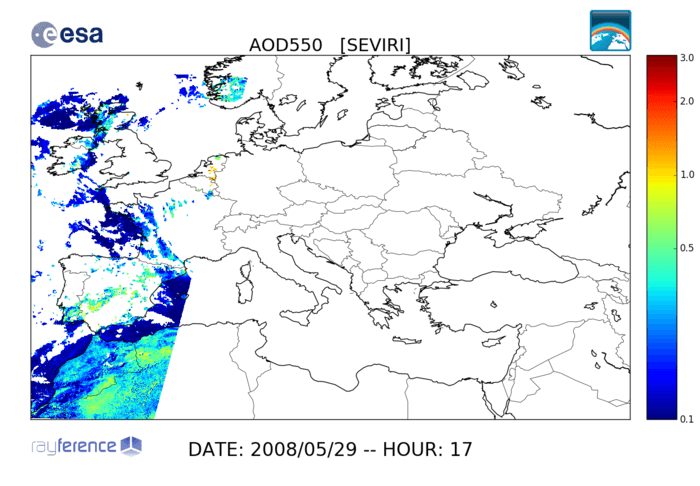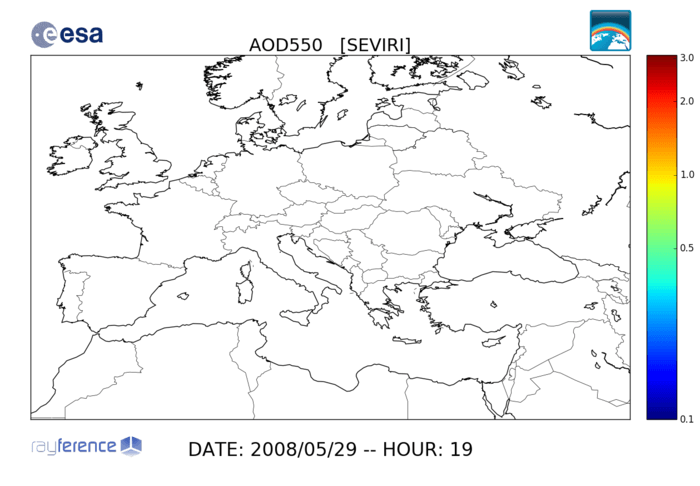 Radiation transfer modelling
Rayference operates a suite of atmospheric and surface 1D and 3D radiative transfer models to perform sensitivity analyses, vicarious calibration, numerical algorithm design or look-up table generation. In the context of the MetEOC-3 project, Rayference has initiated the design of eradiate a new 3D Monte Carlo ray tracing community model to support metrological applications such as calibration and validation activities.
Example of simulated 3D canopy
The 3D radiative transfer code Raytran is used to simulate Bidirectional Reflectance Factor (BRF) over complex scene which are described with a set of geometrical objects. Raytran also allows simulation of in situ observations.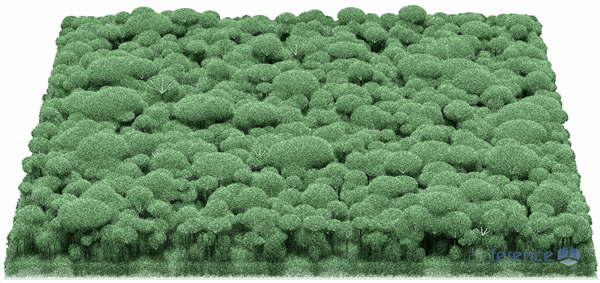 Example of 1D simulation
1D simulation over dense vegetated surface in the red spectral region in the principal plane at the top-of-atmosphere (blue curve), bottom of atmosphere (green curve) and without atmosphere (red curve).
Vicarious calibration
Rayference is using simulated top-of-atmosphere reflectance of desert sites to perform radiometer (cross-)calibration with an accuracy of about 3 to 5%.
Defining operational services
Rayference provides support and advices for setting up operational services based on the exploitation of space-based observations.
About us
Our mission
We provide high quality service on the use of radiation transfer theory applied to the field of environment and climate monitoring as well as solar energy assessment.
Our team
We are a team of physicists and engineers passionate by scientific challenges developing innovative solutions based on state-of-the-art research.
Our publications